Trent Park es un fotógrafo australiano (nacido en Newcastle, Nueva Gales del Sur, Australia, en 1971, vive actualmente en Sídney) que es el único australiano socio de Magnum Photos y que trabaja principalmente con fotografía de calle en Australia. Está considerado uno de los más innovadores y potentes fotógrafos de su generación.
"Utilizo la fotografía como un modo de comprender porqué estoy aquí"
"Estoy siempre persiguiendo la luz. La luz convierte lo ordinario en mágico"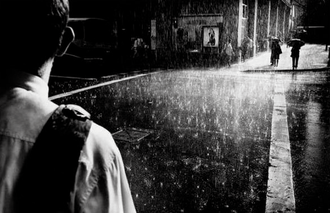 "Fotografiar es descubrir la vida y te permite ver cosas que nunca habías mirado antes. Es descubrirse a ti mismo y tu lugar en el mundo"
Biografía
Comenzó con 12 años su relación con la fotografía con la Pentax Spotmatic de su madre, que había muerto 2 años antes, y el lavadero de la familia como cuarto oscuro.
Trabajó durante ocho años para News Ltd., como fotógrafo deportivo y es miembro fundador de laOculi Photo Agency. También trabajó como fotoperiodista para el periódico The Australian.
En 2003 él y su mujer, la fotógrafa Narelle Autio, realizaron un viaje de 2 años y 90.000 km por toda Australia, que dio lugar a la serie y libro Minutes to Midnight.
Su obra está agrupada en tres amplios cuerpos de trabajo:
Dream/Life

, donde explora la vida de las calles de Sídney,

The Seventh Wave

, acerca de la predilección de los australianos por divertirse en la playa, y

Minutes to Midnight

, un camino de Australia hacia su apocalipsis, redención y renacimiento.
Sus fotografías forman parte de colecciones públicas y privadas como National Gallery of Australia(Canberra), National Gallery of Victoria (Melbourne), Australian National Maritime Museum (Sídney),Museum of Contemporary Art (Sídney) y la University of Sydney Union.
Su trabajo ha sido ampliamente expuesto, incluidas las recientes exposiciones individuales en Nueva York, Londres y Alemania. Minutes To Midnight se presentó en el Centro Australiano de Fotografíaen enero/febrero de 2005, en colaboración con el Festival de Sídney, y se convirtió en la más concurrida muestra en la historia de los países ACP.
Es representado por Stills Gallery y por la agencia cooperativa Magnum Photos (a la que se unió en 2002, convirtiéndose en miembro a pleno derecho en 2007) que incluyó su serie Welcome to Nowhere en la exposición New Blood, conmemorativa del 60º aniversario de la agencia.
Ha obtenido los siguientes premios:
1996/98 5 Gold Lenses, Comité Olímpico Internacional
1998, 1999 y 2004 World Press Photo Award
2000 Premio fotoensayo Canon, Sasakawa World Sports Awards
2003 Eugene W. Smith Award, por su fotografía humanística
Referencias
Trent Parke

 en magnumphotos (EN [+400f]),

Trent Parke

 en wikipedia (EN),

Trent Parke

 en stillsgallery (EN [?f]),

Trent Parke

 en in-public (EN [55f]),

Trent Parke

 en hugomichellgallery (EN [14f]),

Trent Parke

 en photoslaves (EN [60f]),

Trent Parke

 en elpatiodeldiablo [12f],

Minutes to Midnight

 en magnumphotos (EN [1v]),

WPP: 1998, Trent Parke, 2nd prize, Daily Life

 en worldpressphoto (EN [1f]),

WPP: 2004, Trent Parke, 3rd prize, Daily Life

 en worldpressphoto (EN [1f]),

WPP: 1999, Trent Parke, 2nd prize, Daily Life stories

 en worldpressphoto (EN [12f]).
Libros